Level Up Your Child's Learning with Music
It's been a year of drive-through birthday parties, Zoom meetings in the same room as your three-year-old's virtual preschool class, and feeding everyone in the house what sure feels like infinite meals and snacks. Every. Single. Day.
Now that the next stage of pandemic parenting is upon us, you might be wondering what you can do to support your young child's learning. Our answer? Sing with them! (Seriously. That's it.)
Like everything we do with our Music Together® program, the suggestion is rooted in research. Let's take a look behind the scenes and explore how making music supports brain development and socio-emotional learning.
Music: The Brain Builder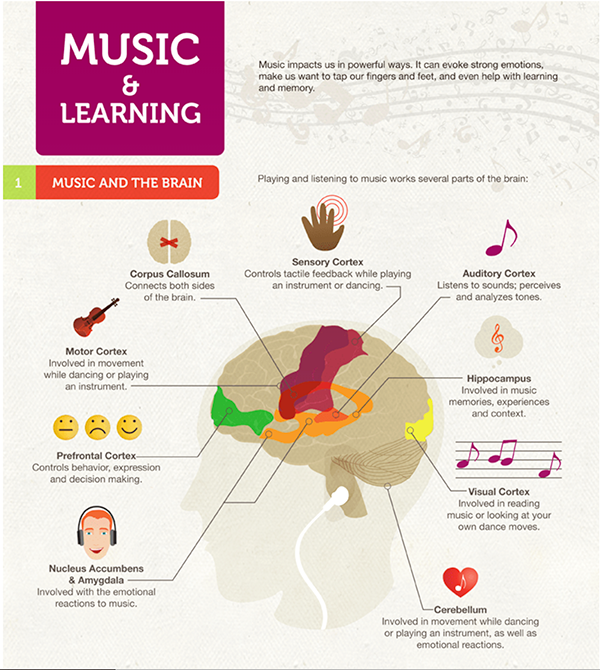 Check out the 
National Association for Music
Education blog
 for the full infographic showing
the impact of music on the brain.
We've all experienced a mood boost when we belt out a ballad while driving or have a hairbrush mic-drop moment. It's (literally) because of our brains! Singing increases production of dopamine and serotonin, the so-called feel-good and happiness hormones. It also puts many of our brain regions to work, strengthening our neural pathways. Neural connections are kind of like our nervous system superhighways, and they're formed through our experiences and habits. When we take part in activities that strengthen them, it's easier to learn and grow throughout our lives.
For young children, whose brain architecture is forming, music-making can be even more impactful. You see, by our mid-twenties, our neural pathways are pretty much done being built, but they're just coming together for babies and toddlers. In fact, our brains are more active during the first five years of life than they will ever be. Positive early experiences create strong neural pathways—and a strong foundation for all future learning.
Here's how music acts as a brain architecture superhero. Because music is accessible and enjoyable for young children, they are likely to repeat songs they like over and over (and over), especially when the grownups they love sing with them. This repetition and engagement exercises important neural pathways, making them stronger and supporting the development of a sturdy brain foundation. And all you have to do is sing!
This Fall of 2021, join us as we sing together during Music Together classes.  We're offering classes inside, outside and online.  You'll receive a song book and CD (also access to online music app) as part of your enrollment.   You can view our class schedules here.